I loved playdough when I was a kid, I had one of the little machines too that you push your playdough through and out squidges a big addition sign-shaped sausage to make things with. It never dawned on me that you could make your own playdough until my brother was around 3 years old and our Nana made some for him. This week the weather hasn't been reliable so I decided on a whim to make some playdough yesterday.
Now, the one criticism I always hear about playdough is from parents worried that it'll get trampled into the carpet and won't come out. This has always been a worry of mine too but I've found that although that happens with commercial play doh, the homemade stuff comes off really easily if that happens.
To make this, you will need:
Plain flour
Salt
Cream of tartar
Water
Food dye (I like Wilton's gels
best)
Oil
Also, I made mine in pans with a curved side which was awkward when it came to heating it up. Straight-sided pans work much better, if you have them.
Put a cup of flour into a saucepan (if you sieve it, it may help your playdough to be less lumpy later but it's not essential to do this)

Add half a cup of salt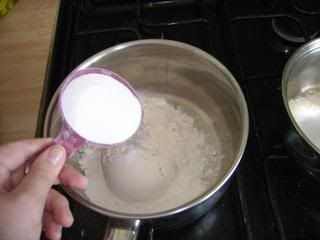 And two tablespoons cream of tartar

Mix this together with a cup of water

Mix until it's smooth. Don't worry too much at this point if your playdough is lumpy, but to avoid that, sieve the dry ingredients together before adding the water.

You're now ready to add your dye. In these photos I'm using a teaspoon of liquid food colouring – although it works fine, the colour can sometimes transfer out of the playdough so as I've recommended above, I always use Wilton's gel colourings now. The pack is pricey I know, but I've had mine for over two years and make playdough at least once a week – there's still at least half left in each tub.
Which looks like this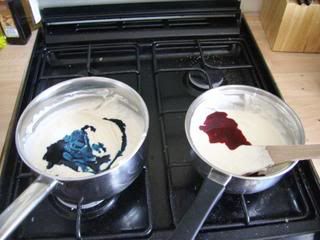 until you mix it all in, when it'll look like this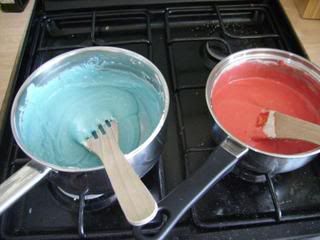 Once you've mixed up your coloured dough, you want to add two tablespoonfuls of oil to your mixture.

Put your dough onto a medium heat and stir constantly until the dough sticks together and comes away from the side of the pan. This happens pretty quickly so be careful that your dough doesn't burn onto the bottom of the pan. Once you can get it into a ball it'll look something like this.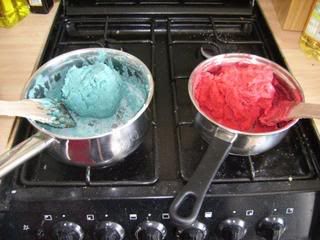 Leave it to cool down for five minutes or so, then pick your ball up and knead it so that the rough outside smooths down. You'll be left with a nice smooth, shiny lump of playdough that should last a month or so. Like standard playdough, it goes hard if it's left out in the air at which point it's probably wise to ditch it and make a new batch up. Also, you can choose not to dye your playdough and instead, make your shapes, bake at 180 degrees for 20 minutes or until your structure has gone solid then paint and varnish it.
Posted under for the kids, with the kids
This post was written by Vonnie on October 11, 2007